This obituary was originally published on the RSGB club site in 2006.
AMATEUR RADIO WAS DENNIS'S LIFELONG PASSION. AFTER FIRST LOOKING AT HIS NEIGHBOURS IN THE 1930'S HE WAS HOOKED.
04 Sep 2006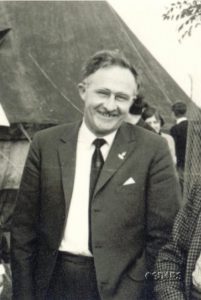 Dennis was born in Norbury (London SW16) and Amateur Radio was Dennis's lifelong passion. After first looking at his neighbours in the 1930's he was hooked.
First contact 21st July 1939, closed down by war on 30th August 1939 after making 109 QSO's
On the 26th August 1940 he joined the RAF as a wireless technician and on Jan 10th 1945 he got his licence back (£2 10s 0d)
He became a knowledgeable constructor, a teacher and an author. He was a dedicated family man, and had the ability to communicate with all people at home and abroad.
He was a gifted speaker and leader; he gave countless hours to others to develop their skills.
On 16th March 1946 he married Mary.
In  July 1947, he became a member of the Surrey Radio contest club with a callsign G4DC /P.
He formed SDARS (Spalding and District Amateur Radio Society) along with Roy (G3VPR) and Sam (G3XBS) in 1964. The first meeting was at Dennis's QTH and the 2nd at the Spalding Grammar School. At SDARS he held every club position and worked tirelessly to raise funds and organise our first rally.
He was a top notch CW operator and teacher and as a result got most of the awards going.
He worked King Hussein of Jordan.
He was also the chairman of the wireless preservation society, along with Doug G3KPO. He was also secretary of RAOTA and author of their club Magazine.
He was "Allergic to Japanese Black Boxes". He Preferred Heathkit !
He had a love Hate relationship with the RSGB.
Dennis worked at Geest for a long time as a rep. Then he moved to the SHDC as a rent collector until retirement.
He was not one dimensional, helping the elderly won him a good citizen's award of 1998. He was a loving husband, father and grandfather and leaves 3 daughters; Barbara, Christine and Margaret. One of the finest things he did before he died was to teach Mary to drive.
Our thanks go to Mary for allowing us to keep his callsign, G4OO, for use on special occasions. She was also kind enough to allow John Hill, G4NBR, to keep Dennis's original licence on the undertaking that it was looked after. This is, and will be, the case.
We thank Dennis for helping so many of us, I being one. First joined the club in 1966 and we are all better people for his lifetime.
Regards. John Hill G4NBR